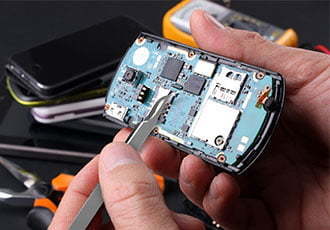 The entire world is using all sorts of mobile phones ranging from a normal mobile to the smartphones. These mobile phones have a life and by virtue of being machines, they can malfunction or get damaged at any point of time. Since mobile is such an integral part of everyone's life so people rush to the mobile repairing centers to get their phones repaired. Just imagine millions of mobiles in this world and a few mobile repairers! You can capitalize on these opportunities by becoming a certified mobile repairer. We at Vishwakarma Academy, offer Mobile Repair Course Nawanshahr that allows you to become an expert mobile repairer.
What basically is mobile repairing?
Like there are mechanics of cars or electric gadgets, there are mechanics for mobile too. When our mobile starts to malfunction, we go to repairing shops but our first preference is always a service center because we know that we'll find specialists there. That's what a mobile repairing course is for. It will make you specialized in the field of repairing.
In this era, the demand for mobile repairers is increasing due to the immense use of these gadgets. Pursuing this course will open doors for your bright future and you can enter any reputed firm or a company like Wipro.
Vishwakarma Academy offers Mobile Repair Course Nawanshahr at the marginal price and it includes training on basic mobile communication, working with the latest technologies & software, formatting, coding-decoding and lots more. Once you complete this course, we will provide you with a certificate after which you can apply for a job in any company or start your own business.
Career Opportunities after pursuing this training:-
You can go after your dream of becoming an entrepreneur and gain your own reputation through your talent in this field.
Many people will approach you directly for the repairing task.
In future, this course will be high in demand.
You can find a job in big companies
It offers the opportunity to earn an extra income apart from the usual job.
If you are planning to become a professional mobile repair engineer, then you can go for a certified Mobile Repairing Course Nawanshahr and give a boom to your career.
Course Materials
Curriculum